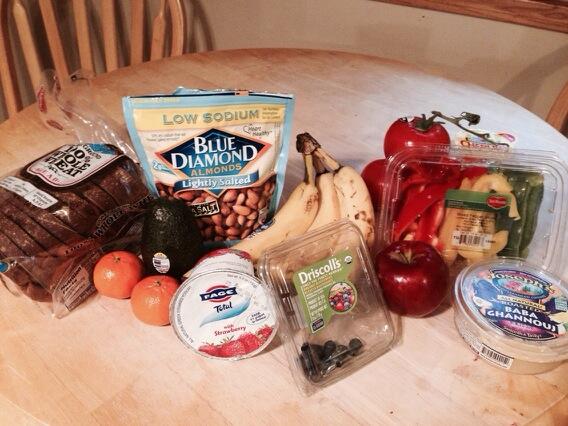 This is a picture of some healthy snacks I picked up this weekend. I wanted to be sure that I have enough healthy snacks in my house so I don't either snack too much on unhealthy foods or too little on healthy ones. Over snacking on unhealthy foods is bad for obvious reasons but why is it bad to "under snack"? First, snacking is good because it keeps your metabolism going. Second, if you turn up to a meal "over" hungry you will eat too much. I know because I do it all the time! Part of my battle the next 8 weeks is coming up with snacks that are both satisfying, healthy and easy. I'm constantly on the go, as a mom with 2 kids and multiple activities going at all times, I need some quick and easy options. I'm sure a lot of you can relate even if you don't have children yet.
Here is a list of easy snacks that are satisfying and healthy…
– Fruit. Pretty obvious, but fruit can be more delicious than candy if you get what's in season and try to by organic. Ask your local grocer what fruits taste especially good right now and they will tell you.
– Vegetables. I love baby carrots, peppers, broccoli etc. Dip them in a low-calorie dressing and they taste delicious.
– Toast and all natural preserves or peanut butter.
– Greek yogurt. I love Fage for the taste and it has less sugar than most yogurt.
– Almonds mixed with dried cranberries. Great for satisfying that sweet and salty craving.
– Humus and pita.
-Avocado and tomatoes with a drizzle of olive oil, salt and pepper.
What other healthy snack ideas can you share with us?
Xx,
Hilary Ann Lambert